Middle Sized Full covered Robot


M-20

i

B
FANUC developed M-20iB, a successor model of popular series of M-20iA, with enhanced transport capacity and anti-corrosion/drip proof performance.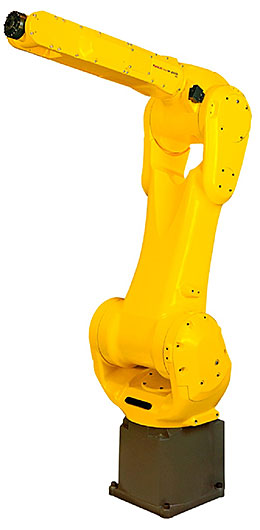 M-20iB is a full covered robot with enclosed construction whose cables and motors are not exposed. This construction helps not to interfere with the peripheral devices and realizes an operation in a narrow area, an installation in a dense deployment of machine tools, etc. Furthermore, adapting the full covered structure enhanced anti-corrosion/drip proof and realized IP67 even with a standard configuration. M-20iB adapted aluminum for entire casting and stainless for exposed bolts to enhance the anti-corrosion performance. This robot is applicable for harsh environment such as release agent spray from die-casting and cutting fluid from machine tending.
M-20iB/25 was enhanced the performance of payload by 25% from the conventional model of M-20iA and increased it to 25kg, and also increased the maximum axis speed by 21%, which contributed to improve the transport capacity and realize a higher productivities.
Additionally, we also developed M-20iB/25C, a variation model of M-20iB/25, suitable for the special environment such as clean room and food handling. In addition to white painting of Epoxy, stainless was adapted for exposed metal sheets and wrist flange, which further enhanced the anti-corrosion performance. Food grade grease is applied and helps the operation in food environment without troubles. Flat and smooth arm can be well drained and easy to clean, and the enclosed construction of full cover maintains the peripheral environment as clean by keeping derbies, such as cable abrasion, inside the robot body.
With the enhanced transport capacity and anti-corrosion/drip proof, M-20iB can provide the great ability of various usages under diverse environment. M-20iB is sure to contribute to your factory automation.

More information for M-20iB