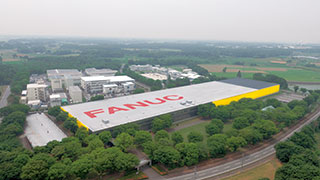 Tsukuba area 1


Tsukuba area 2
Tsukuba Factories are situated in the 310,000 square meter area in Chikusei, Ibaraki Prefecture.
Tsukuba Factories have a capacity to produce 3,000 ROBODRILLs and 1,000 ROBOTs a month.
ROBODRILLs and ROBOTs are produced by using highly automated systems with our ROBOTs.
In Tsukuba area 1, ROBODRILLs are assembled and ROBOT controllers are manufactured.
In Tsukuba area 2, parts of ROBODRILLs and ROBOTs are machined and ROBODRILLs and ROBOTs are assembled.
Tsukuba ROBODRILL Factory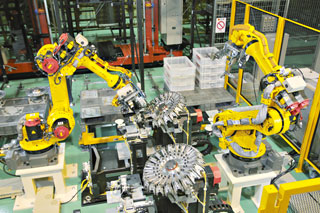 The Tsukuba ROBODRILL Factory has a capacity to produce 3,000 ROBODRILLs a month.
The assembly of tool changers, spindle units, etc. are automated by ROBOTs.
Tsukuba Machining Factory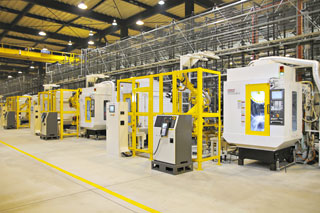 The Tsukuba Machining Factory manufactures parts for ROBODRILLs.
The installed FANUC ROBOT Cells realizes long-hour unmanned operation including on Saturdays and on Sundays.