Message from the President and CEO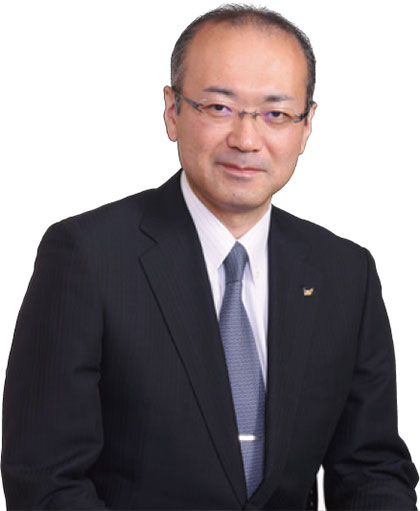 Offering Value to Customers and Social Responsibilities
The idea that companies should also bear social responsibilities is said to have originated in the United States in the 1920s, when companies became larger and their impact on society grew stronger. I believe it was in the 1970s, when society was awoken to the problem of pollution, that this concept became a reality for Japanese companies. Since then, repeated scandals and global climate change have presented new challenges, and the scope of corporate responsibility has expanded beyond society to include consideration for the environment.
I feel that, with this expansion of responsibility, companies' attitudes have changed from a passive stance of reacting to criticism to a more proactive approach, in which they actively seek to contribute to society and environmental conservation. The SDGs, which have become much talked about in recent times, cannot be achieved unless companies are proactive about fulfilling their responsibilities as members of society
In such a business environment, I mentioned in our Sustainability Report 2019 that I wanted to communicate in more transparent ways the sustainable development that FANUC has been pursuing. The basic principles of "Strict Preciseness" and "Transparency" that FANUC has cultivated since its foundation include our responsibility to society as well as our contributions to the environment. Our desire to make the principles widely known in more transparent ways lies behind the publication of our Sustainability Report.
Today, companies are shouldering social responsibilities that include environmental conservation as well as economic responsibilities. Through our tireless efforts toward technological innovation in the factory automation domain, FANUC strives to provide indispensable value for customers and society. We hope to be a company that will always retain the confidence of our stakeholders by fulfilling our responsibilities toward society through our attitudes towards business.
On the basis of such understanding, FANUC is working hard to enhance our annual report and sustainability information. This comes entirely from our belief that communicating in more precise and transparent ways will boost our growth as a company.
It is my sincere hope that the sustainability information contained herein will continue to deepen your understanding of FANUC and serve as a source of our growth.
Kenji Yamaguchi
President and CEO
Menu for General