Products

ROBODRILLs (compact machining centers)
ROBOSHOTs (electric injection molding machines)
ROBOCUTs (wire-cut electric discharge machines)
ROBONANOs (ultraprecision machines)

Strengths

Products applied with CNCs and servos, FANUC's basic products
High precision performance, high operating rates, easy to use
Top-level global market share of ROBODRILLs (compact machining centers) (FANUC estimate)
Top-level global market share of ROBOSHOTs (electric injection molding machines) (FANUC estimate)
Business Overview
Products of the ROBOMACHINE business are comprised of machine tools or industrial machinery installed with FANUC's CNCs and servos. They are used for production in factories of machine users. They are all highly compatible with FANUC robots. Factory automation is enhanced through the combination of ROBOMACHINEs and robots.
Machine users can improve quality of their products and shorten the time it takes for machining by using FANUC's highly reliable, high-performance ROBOMACHINE products. The products will contribute to improved productivity of machine users' factories.
Furthermore, a function to monitor the operational status of the entire factory in real time will enable designing of more precise production plans and improvement in operating rates (ROBODRILL-LINKi, ROBOSHOT-LINKi, and ROBOCUT-LINKi).
ROBODRILLs and ROBOSHOTs became eligible for a subsidy for business expenses supporting businesses rationalizing energy use in production equipment, allocated in the fiscal 2019 supplementary budgets in recognition of their energy saving potential. ROBOMACHINE products are used in the production of medical instruments, including syringes and artificial bones, contributing to efforts to achieve a goal among SDGs of securing healthy life.
Value Created by ROBODRILLs
ROBODRILLs are compact machining centers. They are used for machining metal materials, such as iron and aluminum, with tools and for drilling holes.
The products have superior machining performance for their compactness and contribute to making production equipment smaller and saving energy. They improve production efficiency by thoroughly reducing redundancy in machines' operation, and achieve more stable machining through the use of AI thermal displacement compensation function. These features help improve machine users' product quality and productivity.

Value Created by ROBOSHOTs
ROBOSHOTs are electric injection molding machines. They form melted plastics, etc. into shapes by casting them into metal molds. Many components used in daily lives, including mobile phone components, auto parts, and medical instruments, are made using injection molding machines.
FANUC's products can perform more precise and stable molding thanks to the highly-rigid and low-friction mechanism and contribute to manufacturing of high value-added precision molded products. AI backflow monitor helps estimate the amount of wear on backflow prevention rings, allowing for replacement of components at optimum timing. This contributes to reducing molding defects and improving operating rates.

Value Created by ROBOCUTs
ROBOCUTs are wire-cut electric discharge machines, which use discharge phenomena between wire electrodes and the workpiece to perform machining. They can perform machining on anything from thin boards to ultrahard materials, which are difficult to process for cutting tools, into complex shapes as long as the material is conductive, regardless of its hardness.
By achieving stable machining through the use of the AI thermal displacement compensation function, these products contribute to improving machine users' product quality. The automatic wire feeding (AWF3) can automatically recover feeding when a wire is accidentally cut and disconnected during machining, thereby enabling unmanned operation for long periods. These features contribute to improving operating rates.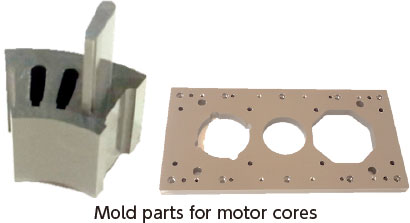 Value Created by ROBONANOs
ROBONANOs are ultra-precision machines that challenge the boundaries of machining by realizing a 0.1 nm programming command, combining FANUC's latest CNC and servo control technologies. The machining and lathe types of ROBONANO address nano-level machining needs in the areas of optical electronics, clocks, biotechnology, and healthcare.

TOPIC
FANUC's contribution to the ultra-precision small plastic molded parts market through ROBOSHOTs was highly appraised, and was awarded the "2019 Okochi Memorial Production Prize" for the "development of fully electric injection molding machines for ultra-precision small plastic molded parts" from the Okochi Memorial Foundation.
Areas of contribution to environmental/social issues
Measures to address decreases in working population and highly skilled engineers
Improvement of customers' productivity
Energy saving in customers' factories
Ensuring healthy life through provision of healthcare products








Sales of ROBOMACHINE business